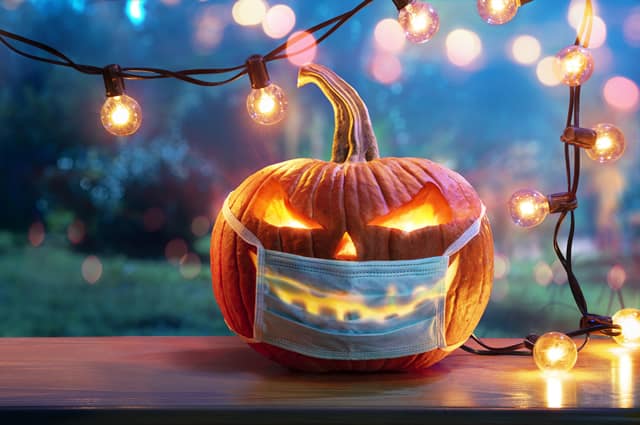 Halloween is coming soon.. are you ready? Check out some of the best songs to make you 2021 Halloween party one to remember.
"Thriller" By Michael Jackson
We'll start off with this timeless classic. "Thriller" is one of Michael Jackson's most famous early 80s hits. He accompanied the song with an amazing short film, filled with zombies, cemetery scenes, and that famous red leather jacket. 
The song is almost 6 minutes and features special effect sounds throughout the track, including creaky floors, wind and footsteps. There's also a very eery narration feature from Vincent Price that adds the icing to the cake. 
Some guests will enjoy a nostalgic experience by listening to the song and maybe even remembering the iconic choreography. To make it even more entertaining, considering including a screen for people to watch the 12-minute mini-movie that MJ filmed for the song. 
If you want a "Thriller" Halloween themed party, encourage guests to dress as zombies and werewolves (preferably from the 80s). Make yourself the zombie version of Michael Jackson to make the scene complete.
"I Put a Spell on You" By Bette Midler
This song has been performed by many great names. The late and great Nina Simone added her voice to a rendition of this song that will send chills through your body. And most recently Alice Smith offered a similar effect with her version. 
But if you want an upbeat, danceable take on the song then Bette Midler's performance is the route to go. Bette recorded her version of "I Put a Spell on You" for the 1993 hit movie "Hocus Pocus". The movie starred Midler playing one of the three witchy Sanderson sisters alongside Sarah Jessica Parker and Kathy Najimy. 
You'll make your party a wicked good time with this fun track. As a theme, invite everyone to dress as witches, wizards and anything else that reminds you of magic. 
"Monster Mash" By Bobby "Boris" Pickett
Here's a track that will really get the children up and dancing. "Monster Mash" might have been originally recorded in the 60s but this hit will impress any kid in 2021. This track about monsters partying in a graveyard has a groovy feel.
If you want to have a "Monster Mash" Halloween party, ask guests to come dressed as their favourite monster characters. Here are a few costume ideas for your theme:
Frankenstein (or bride of Frankenstein)
Ghost
Goblin
Vampire
Werewolf
Zombie
Mad scientist
Decorate your place like a graveyard site or a science lab. You can include smoke machines and bubbling punch to add a more spooky effect.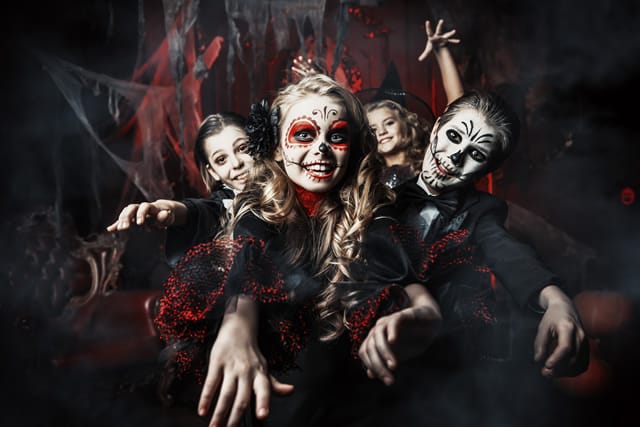 Who else can add a scream queen fashioned pop hit to your party? Rihanna's 2008 smash from her album "Good Girl Gone Bad" is the perfect track to make your Halloween party a cool scene. Crank up the speakers and guests will surely get up to dance to this one.
The song describes someone trapped in a dystopian reality and seemingly losing their mind (maybe). The electropop song can be turned into a classic horror film theme. Think mental asylums, haunted houses, and anything related to American Horror Story.
"Bad Romance" By Lady Gaga
What's a Halloween party without the quirky icon herself? Although "Bad Romance" might not be about Halloween per se, it's still a great track with a haunting vibe that can liven up your party. It's also a great song to sing along with.
Gaga sings about love and revenge in this timeless dance track. There are a few different themes that can be born from this song. You could ask guests to dress in different Lady Gaga outfits which should be a great spectacle if you're familiar with Gaga's style.
Another cool theme for this party would be to simply ask people to dress in their most creatively unconventional idea. Even if their costume turns out to be a giant meat suit it'll be a good time.
While we're still talking about iconic divas and pop Halloween songs, we can't forget to mention Queen Bey. On this track titled "Haunted" from her fifth album in 2013, Beyonce starts her vocals in a slow, eery tempo. As the song goes on, the beat speeds up and slows back down again.
This song has a mysterious vibe and could add itself well to a Halloween theme party in many ways. You could bring out the concept of the old game "Clue". Make guests solve a murder mystery dressed in their best detective or fancy 1950s attire.
You and your family could also dress up as ghosts and make your place a haunted house adventure. Add some fake cobwebs and spooky old photos to the hallways for a great effect.
"Time Warp" By Little Nell, Patricia Quinn, & Richard O'Brien
Want to bring a new level of fun to your Halloween party? One watch of the classic 1975 musical film "The Rocky Horror Picture Show" will make you fall in love with this rock-and-roll dance hit. 
The lyrics go "it's just a jump to the left and then a step to right" followed by more instructions that your guest can do along with the track. Kids will love getting wild and dancing around to this song.
You might want to take a note from this song to create a unique Halloween themed party. In this case, you can adopt costumes from scenes in the movie which include dramatic dark makeup and glamorous cabaret clothing. Don't forget to add a rock-and-roll twist and a famous curly wig courtesy of Tim Curry's main character.
"Ghostbusters Theme" By Ray Parker Jr.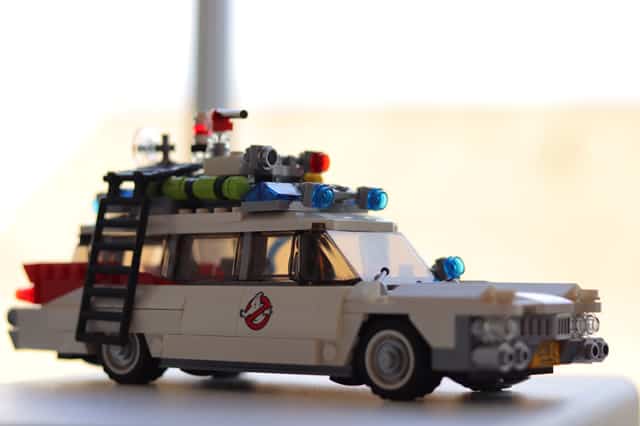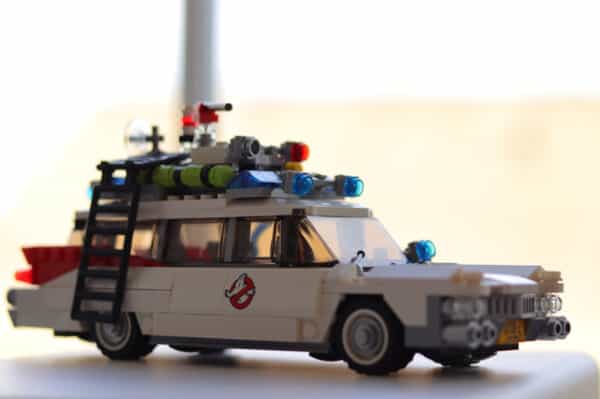 Ready for a battlefield party between ghouls and ghostbusters?
This is the perfect time to introduce any children who haven't seen 1984 hit comedy to its greatness (yes it's a PG rated film!). The "Ghostbusters Theme" is a super fun and upbeat song to add to your Halloween party playlist.
Making this song into a theme is a piece of cake. All you need to do is set up your decorations like a haunted factory.
From there, ask guests to come as some form of ghosts (green blobs like Slimer or Stay Puft the Marshmallow Man will definitely get the creative juices flowing). Then have some people be the ghostbusters, equipped with jumpsuits and ghost vacuum backpacks.
If you have time after watching the first movie, there's also the second and the 2016 reboot. Any of these films are great movies to play in the background while guests enjoy themselves. All three movies will offer more fun and laughter to your party.
If you really want to push the boat out and impress your fiends with an original idea then head over to Cameo and ask Ernie Hudson to record you a personal video message for your party!
Don't forget to check out the new Ghostbusters film "Ghostbusters: Afterlife" which was released at UK cinemas on 12th November 2021 and available to buy and keep from 10th January 2022.
We've seen the film and it's A W E S O M E.
If you like the origianl then we promise this will please!
"Black Magic Woman" By Fleetwood Mac
Fleetwood Mac is known to make magic with their music and this 1969 blues-rock hit does not fall short of that reputation. With a sultry guitar and rhythmic drums, "Black Magic Woman" is a smooth track to add some chill vibes to your party. 
Finding ideas for the best themes to get out of this song are endless. You can have everyone dress up in their coolest, most mysterious magical outfits. This might include witches with crystal balls and magicians with top hats.
Encourage people to get creative and come casual if they prefer. Another great Fleetwood Mac choice for your Halloween party playlist is "Rhiannon".
"Dark Horse" By Katy Perry ft Juicy J
Kids will absolutely go crazy over this theme for your party. Katy Perry's "Dark Horse" is a slow tempo song with a wonderful melodic flow that talks about magic and goddesses. But the place you'll be getting your theme from is the video.
Perry created a fantasy world set in ancient Egypt with sorcery and Sphinxes. Children and adults will love all the great costume selections that can come from this theme. Here are some good ideas for your "Dark Horse" party:
Pharaoh 
Sorcerer
Mummies
Cleopatra 
Ancient Egyptian attire
Bring ancient Egypt to your home by putting pyramids and backdrops of the desert around. You can also add cool touches by serving drinks from chalices and including gold in your decorations.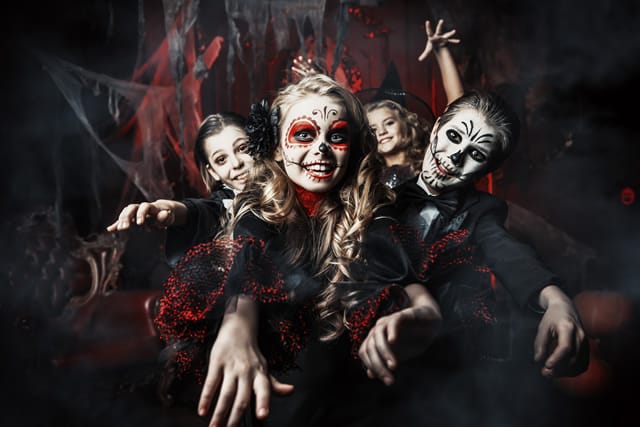 "The Addams Family Theme" By Vic Mizzy
This unconventionally loveable family of spooks stole our hearts decades ago. The theme song highlights how creepy and spooky they are in a fun, quirky style. And who doesn't love snapping their fingers to the beat?
Ask guests to dress up as their favourite Addams family characters. Decorate your house just like their haunted mansion with dark colours and cobwebs.
Create the Best Playlist for Your Next Halloween Themed Party
The right music will add the perfect touch to your next Halloween themed party. Make sure you choose selections that are fun for everyone attending.
Also, choose songs that people love to dance and sing to. If you want to add some karaoke to make your party even more of a hit, contact us today for options.