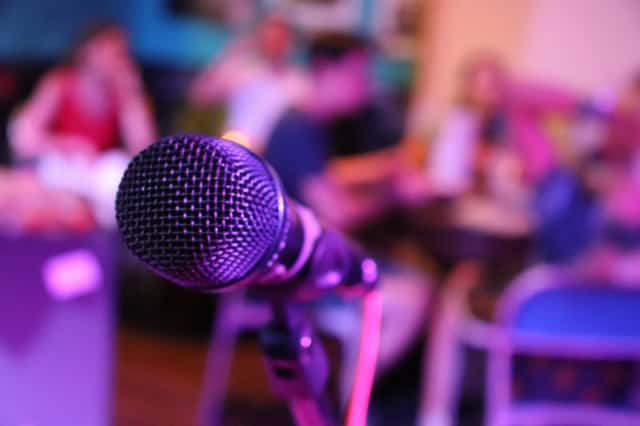 Have you always wanted to try karaoke, but visions of embarrassing yourself in front of a room full of strangers stop you every time? 
We're here to let you in on a little secret. When you choose the right karaoke songs, you're guaranteed to impress both the crowd and yourself!
Classic karaoke songs that have a simple melody and lyrics are best for first-timers. Are you ready for a sneak peek of some of the easiest karaoke songs to perform?
Warm-up those vocal cords because we're about to share 10 of the best karaoke songs for beginners that'll have you kissing your stage fright good-bye and the audience requesting an encore!
1. Right Said Fred - "I'm Too Sexy"
Why not kick things off right with a song to help boost your confidence on the karaoke stage? As cheesy as this song might be, you can't deny its universal appeal, which makes it a crowd-pleaser. The simple lyrics make it the perfect karaoke song for beginners.
Get ready to strut your stuff on the catwalk with this easy-to-remember classic.
2. The Foundations - "Build Me Up Buttercup"
The Foundations "Build Me Up Buttercup" is a fan favourite both at the karaoke bars and on the dance floor. People can't help swaying and singing along to this upbeat melody.
This karaoke song is perfect to sing with a group and play off each other's reactions and movements. Hold the microphone out toward the audience and let them join in with the chorus. Not only does this get the crowd excited but it gives your vocal cords a break.
3. Joan Jett - "I Love Rock 'n' Roll"
Are you ready to tap into your inner rock star from the 1980s? "I Love Rock 'n' Roll" has a good beat, basic lyrics, and is the perfect way to let your hair down at the karaoke bar.
Despite the fact that it's sung by a woman, men can easily carry this toon also, making it a universal choice. Show off your personality with a leather jacket, large earrings, and teased hair. 
4. Britney Spears - "Oops, I Did It Again"
What karaoke song list would be complete without the queen of pop? Britney Spears has sold over 150 million records worldwide, making her one of the best selling artists of all time — and the ideal choice for some of the most popular karaoke songs around.
"Oops, I Did It Again" was Spears' first hit and the one that put her on the map. No matter how annoying you might find this song now, chances are, you know the words by heart — and so will the audience.
Get your schoolgirl outfit ready, put some pigtails in your hair, and be prepared to make karaoke history. 
5. Van Morrison - "Brown Eyed Girl"
Everyone loves a "Brown Eyed Girl" — or at least they do according to Van Morrison. This karaoke song is playful, upbeat, and just makes everyone feel good. 
This is one of those songs that most people can't help but sing along too, so even if you miss a few verses or jumble some words, the crowd won't mind. In fact, they may not even notice over the song of their own singing.
The classic "sha la la.." chorus will get the crowd excited and involved. While Morrison's pitch is slightly high, you can find a comfortable range that works best for you.
6. Neil Diamond - "Sweet Caroline"
Another wedding classic and a song that makes people smile is Neil Diamond's "Sweet Caroline". Neil is a master performer and an expert at creating uplifting songs that are fun and easy to sing along to.
The audience will undoubtedly participate during the iconic "ba ba ba" chorus. This is another karaoke song that's fun to sing with a group. 
7. Spice Girls - "Wannabe"
Everyone has sung to a Spice Girls' song at least once in their life — even if they won't admit it. With over 10 chart-topping hits, the Spice Girls took the world by storm and were the envy of every pre-teen girl.
"Wannabe" is classic Spice Girls and one of the most high-energy songs on this list. While it might be tricky to belt-out the "rap" part of this song, with enough practice, you'll nail it!
Because there are overlapping parts in the song, you may want to grab a friend (or two) to help you with this performance.
8. Taylor Swift - "Shake It Off"
T-Swift is an iconic performer and the current princess of pop. Her songs are wildly popular, romantic, sassy, and perfect for karaoke. If you're looking for an upbeat track, "Shake It Off" lets you show off your personality and, well, shake it!
Although some of her best selling hits are complicated vocally, the repetition of the lyrics makes "Shake It Off" an easy choice for karaoke beginners. Another bonus? Most audience members will be excited just to hear Taylor Swift come over the speakers.
There's nothing quite like a little "Love Shack" to get a karaoke party started. With a mix of high-intensity versus and the classic "bang, bang, bang on the door baby" verse, the audience will be on their feet, singing and dancing along.
Pair up with your best friend or significant other to perform this classic the way it was intended. A group of friends works too! 
10. The Beatles - "Hey Jude"
The Beatles did more than just make large groups of girls scream and cry — they created some ideal karaoke songs for first-timers. "Hey Jude" is best known for its simplicity and deep meaning. 
The crowd will join in during the "nah, nah, nah, nah" section and with a little practice, you can easily carry the rest in a comfortable range.
Start With Some of These Classic Karaoke Songs
Are you new to the world of karaoke? Nervous about making a fool of yourself?
When you choose one of these classic (and easy) karaoke songs, you're sure to have the crowd on their feet by the end of your performance. There are a few tricks to choosing successful karaoke songs. 
Pick songs that are well-known, have simple lyrics, and have sections for audience participation. The more involved the crowd becomes, the less focused they'll be on the quality of your voice.
Want to host your own karaoke event or party? Contact us for more information!